A while ago before me and Skee were re-affiliated with Divine, we were talking about a new set of movie trilogies for Star Wars--and, of course, we wanted more of the dark side to be exposed to the audiences that enjoyed Star Wars. So, we divided all of the dark stories of Star Wars into three trilogies.
1. The Dark Lore Trilogy


Star Wars Episode I: Darth Revan - This movie would elaborate in detail on how everything in the KotOR series surfaced the way it did, and it would focus on who Darth Revan was and what he left behind--those he trusted like his Shadows, those who became victims of his actions like Nihilus, and those he remade into greater beings like his acolytes. This would go from his position as a Jedi Knight trying to save the Republic from the Mandalorians to a new Sith Lord unleashing his dominance on the galaxy. And the movie would eventually end with Revan's near-death. This would be a great way to bring the story of Darth Revan to life, and to add more elaborated lore into Star Wars. It would give new meaning to what the dark side really is and what it can do. Lastly, it would show where Revan's knowledge would be kept, and how this would tie in with an eventual Darth Bane movie.

Star Wars Episode II: The Sith Lords - This would quite simply be KotOR II: The Sith Lords brought into the reality of cinema. This story was very well written and brought a lot of depth to all of the characters, as well as thrillingly horrifying themes. Darkness would be written all over it. It would be a challenge to watch entirely, but it would be well worth it.

Star Wars Episode III: Return of the Sith - This would be the final completion of the Old Republic-based stories. This would focus mostly on the ultimate warrior Darth Malgus and what the Sith were capable of doing, as well as what Malgus's intimacies were--his prized posessions, his purpose, and his being. It would also feature the SWTOR: Deceived novel and bring it to life in the world of cinema.

2. The Rule of Two Trilogy


Star Wars Episode IV: Path of Destruction - This is where the tale of the Rule of Two begins--with Darth Bane. This story would show how someone falls to the dark side in detail. It would bring the Darth Bane: Path of Destruction novel and half of the Darth Bane: Rule of Two novel to reality, and it would show how Darth Bane remade an entire legacy into his own image, as well as where his inspirations came from and his inspirations were.

Star Wars Episode V: The Rule of Two - This is really where we get the ball rolling. Bane's new apprentice, Darth Zannah, evolves as an individual and progresses through the Sith hierarchy, overcoming conflict and using it to strengthen herself. And classically, it would be one of those stories that would use several different elements to tie it together in the end. Everything that happens contributes to the continuing change of story, and a story like this would work best on the screen. The captivation of the audiences would definitely be consistent.

Star Wars Episode VI: Darth Plagueis The Wise - This story is one of the ultimate literary masterpieces of Star Wars. This story is great because it grabs interest without a ton of action--it's even suspenseful using these methods. We would be able to delve more into how Plagueis planted corruption into the galaxy carefully--as well as inside of Sifo-Dyas and Dooku--it would introduce how Palpatine became Darth Sidious, and we would learn more about Darth Maul and what his experiences were. Nobody would hate midi-chlorians so much anymore, hopefully. Lastly, people would learn about why Plagueis had been titled The Wise by Darth Sidious, what his views on the Rule of Two were, and why he was ultimately killed.


3. The Dark Presage Trilogy


Star Wars Episode VII: The Rise of Tyranus - This is where Sidious continues the legacy Plagueis left behind, and begins letting the seeds of corruption grow and spread. More importantly, we learn more about Sidious's methodology of luring special individuals to the dark side and as people watch this movie, they will be introduced to concepts of internal strength. But more importantly, we learn more about Dooku's ideals and philosophies, and why it becomes an adherent to the Sith cause. In the midst of this, we'll get an in-depth look to the creation of the clone army, the fall of Dooku, the surfacing of Jango Fett, and the death of Sifo-Dyas.

Star Wars Episode VIII: Battle of the Sith Lords - This is where things get very interesting. This would be a rewritten story of how Darth Maul and Savage Opress chose to make their moves in the galaxy, as well as how big a threat they were to literally everything--especially to Darth Sidious and Tyranus. This is the ultimate Sith powerplay. Darth Maul and Savage Opress are active and progressing with their authority, building a criminal empire and gaining more revenue with the worst of the worst. As they continue to expand discreetly, Sidious and Tyranus are in threat of exposure. What lengths will they go to remain hidden, and how will the Sith duos eventually fair against one another?

Star Wars Episode IX: The Dark Apprentice - Revenge of the Sith gave us a good idea of who Darth Vader was, who he is--as did the Original Trilogy. But it's time he gained his own fully established depth. This would take place during Star Wars: The Force Unleashed II. Before you jump to conclusions on how bad or short the story apparently was, hear me out. Darth Vader had been manipulated by the Emperor before and was forced to make Galen Marek a pawn in their plot to root out the Rebels. Of course, the original TFU won't be on film so we'll be able to learn about the depth of Palpatine's treachery in this movie. Vader cloned Galen Marek and he is going to great lengths to find the perfect specimen, as well as a chance to reunite with his myrmidon. We will learn about the Dark Apprentice's intimacies, the continuity in the dynamic between him and Darth Vader, and how far he may service his secretive Master before he comes to an end--if he comes to an end.


_____________________
Does fear of fear constitute fearlessness?
Banned



Posts : 100
Join Date : 2014-07-25



I'm glad you posted this and elaborated upon our conversation.

But Jim. . .

Sex. Where is the Sex, Jim?

I want a Sidious-Plagueis sex scene in there somewhere.
_____________________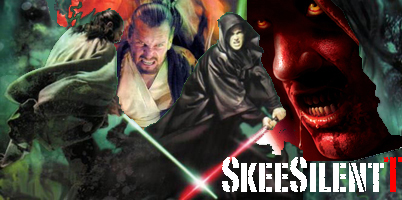 Jizzyballs O'Houlihan



Posts : 218
Join Date : 2014-07-24



@SkeeT

wrote:I'm glad you posted this and elaborated upon our conversation.

But Jim. . .

Sex. Where is the Sex, Jim?

I want a Sidious-Plagueis sex scene in there somewhere.
Plagueis's midi-chlorians were too hard for Sidious to handle in the butt, so unfortunately it can't happen. Sorry, man.
_____________________
Does fear of fear constitute fearlessness?
Banned



Posts : 100
Join Date : 2014-07-25



---
Permissions in this forum:
You
cannot
reply to topics in this forum